Typically, gaming furniture is intended for stationary use. But some gamers have a lot of mobility – and they may also need a gaming table on the go. For this target group, the UNEVN BASE is a portable foldable table that can even be used to integrate a gaming PC.
Similar to the DK series fixed desktop enclosures from Lian Li, computers can be installed under the desktop. BASE accommodates a Micro-ATX or Mini-ITX motherboard for this purpose. For CPU cooling, an air cooler up to 6.9 cm high or water cooling with a 240 mm radiator (maximum 240 x 120 x 60 mm) can be installed. On the other hand, the dimensions of the graphics card depend on the mainboard. When using a Micro-ATX motherboard, the graphics card can reach a maximum size of 325 x 140 x 66 mm. With Mini-ITX motherboards, there is room for a graphics card measuring up to 325 x 170 x 65mm. A SFX or SFX-L power pack with a maximum length of 13 cm is used for the power supply.
However, under the table top there are also storage compartments for the mouse (up to 140 x 58 x 42 mm), keyboard (445 x 170 x 45 mm) and even the monitor. A maximum of 27-inch flat screen monitor with dimensions of 625 x 365 x 63 mm is supported. The normal monitor stand must be disassembled. Alternatively, the monitor is table-mounted using a VESA 100 or VESA 75 mount.
The constructed base provides a surface area of ​​114 x 68 cm. Its height can be adjusted between 54 and 82 cm. The table legs can be folded inward, then the base measures only 114 x 68 x 23 cm. At around 20 pounds, the folding table is nothing short of lightweight. If PC hardware and peripherals are added, UNEVN assumes a weight of approximately 27 kg. So you'll probably want to carry the filled folding table in pairs.
The gaming table provides a special non-slip surface on which the keyboard and mouse pad must rest. UNEVN integrates a full suite of connections – including six USB 3.2 Gen1 ports, two USB 2.0 ports, a USB-C port, two sockets and a network jack. Of course, RGB lighting shouldn't be missing either.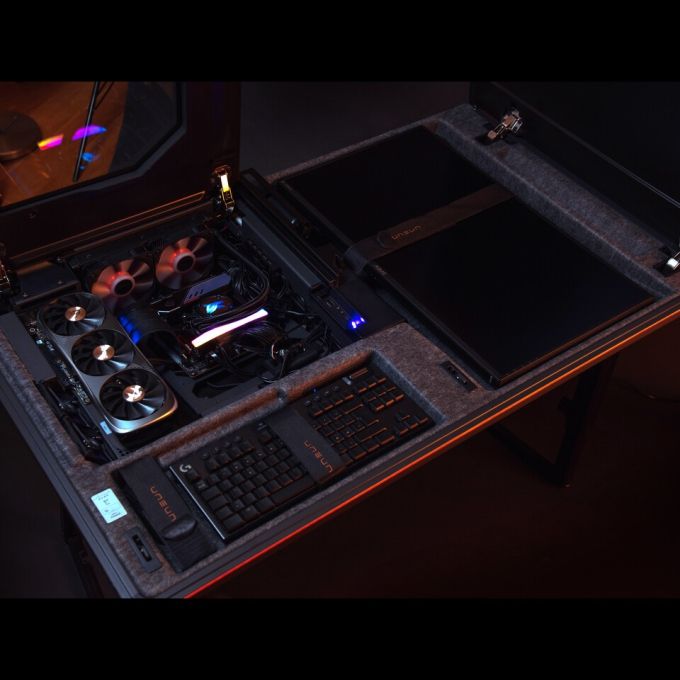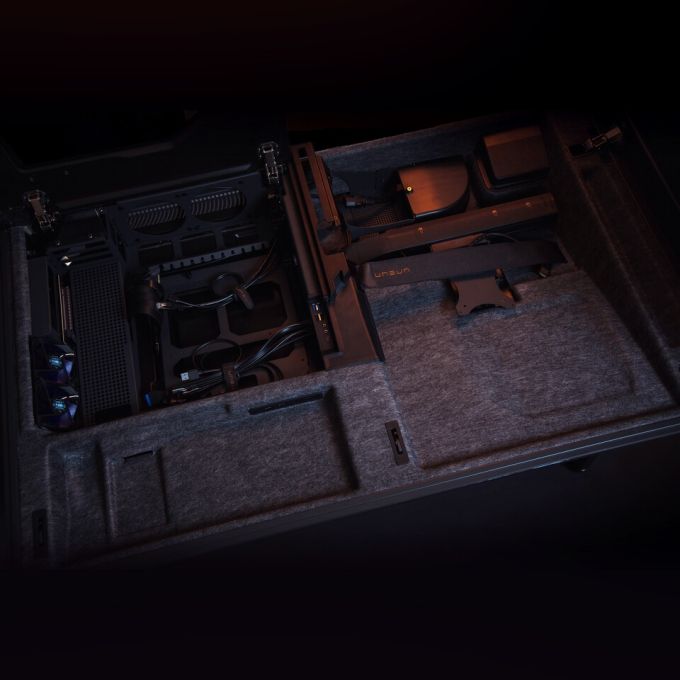 The folding gaming table has already been sold by the Finnish manufacturer. Without a computer and monitor, the device costs 1,290 euros. If you order BASE with an AMD system (including Ryzen 7 7800X3D and GeForce RTX 4070 Ti) and with a 27-inch (WQHD, 165Hz) gaming monitor, you should be prepared for €4,049.

"Unapologetic analyst. Infuriatingly humble coffee evangelist. Gamer. Unable to type with boxing gloves on. Student. Entrepreneur."