During Gamescom 2023 in Cologne, Samsung announced that cloud gaming apps will soon be available for 2020 smart TV models. No detailed information on this has been provided yet.
However, it has been confirmed that the 2020 TV models will not have the Gaming Hub interface. Instead, users are allowed to install cloud gaming apps individually from the TV App Store. Commenting on the announcement, Mike Lucero, Head of Game Productivity at Samsung, said: "We will be bringing cloud gaming apps to our 2020 TV models in the coming months to offer our customers even more services and gaming capabilities."
2020 Samsung TV models will get cloud gaming apps
So far, Samsung hasn't specified exactly which cloud gaming apps will be available for the 2020 models. However, apps like Xbox Game Pass, Nvidia GeForce Now, Amazon Luna, Utomik, Blacknut, and Antstream are currently in the company's portfolio. In addition, it was announced that several Bluetooth game consoles will be compatible with TVs.
TV models prior to 2019 get nothing
Important note for owners of older TV models: Models from 2019 and earlier will not support the new cloud gaming features. Although these older models would technically be able to support game streaming apps, Samsung decided not to include them in this expansion because the company doesn't offer Tizen updates for older models.
More information about supported apps and the exact launch schedule are expected to be announced over the next few weeks. With this announcement, Samsung confirms its commitment to gaming and expanding the functionality of its 2020 TVs. The following model series are affected:
Q950T 8K QLED TV
Q800T 8K QLED TV
Q95T 4K QLED TV
Q90T 4K QLED TV
Q80T 4K QLED TV
Q70T 4K QLED TV
Q60T 4K QLED TV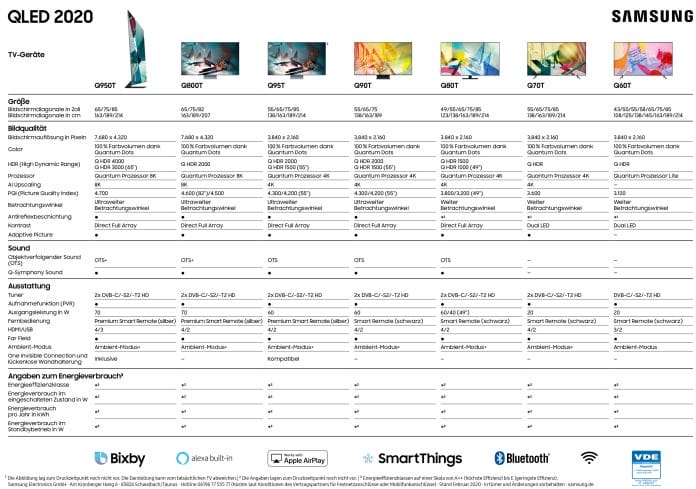 More posts about game streaming:

"Unapologetic analyst. Infuriatingly humble coffee evangelist. Gamer. Unable to type with boxing gloves on. Student. Entrepreneur."