I'm Notomi, PR representative at LAC Virtual EXPO.
In the previous article, we introduced How to Tour the Eggs, including the procedures for entering the virtual exhibition venue and how to enjoy yourself after entering.
It's a quick question, but did you come to "LAC Virtual EXPO" in summer attire?
In addition to changing the background, we also changed the way the guide and the way the video plays a bit, so you might be surprised when you visit again.
Virtual EXPO collects the heat for the summer as well as the heat outside. Even if you have already visited, please come to the Virtual EXPO summer edition.
This time, we will introduce some special content!
Provide distinctive content
Let's take a look at the "company introduction area" service exhibition booth and content booth that will be introduced for the first time this time.
In terms of service exhibitions, last time we introduced "education" and "breakthrough" from the solution exhibition area. This time, I will give the "training".
train
In the "Training" booth, we introduce "T3 Targeted Attack Email Attack Training with Security Education". Free Trial Information, Case Study, Download Introduction Material and a simple explainer video are available in the background.
Recently, the risks of hard-to-detect malware such as Emotet have increased, but in order to reduce the risk of infection, it is necessary to conduct email training to improve the knowledge of employees who can notice offensive emails. And improving literacy cannot be gained with just one training. The video mainly introduces a "SaaS email training service" that can solve such problems and can be implemented from email delivery to continuing education.
A new wing is due out next month, so please look forward to that as well.
Introduction about the company
Next, we would like to introduce the company profile area that we have prepared as content other than a service.
Information provided by the company that touches knowledge of the shelves
First, there is a shelf entry area on the left side of the entry.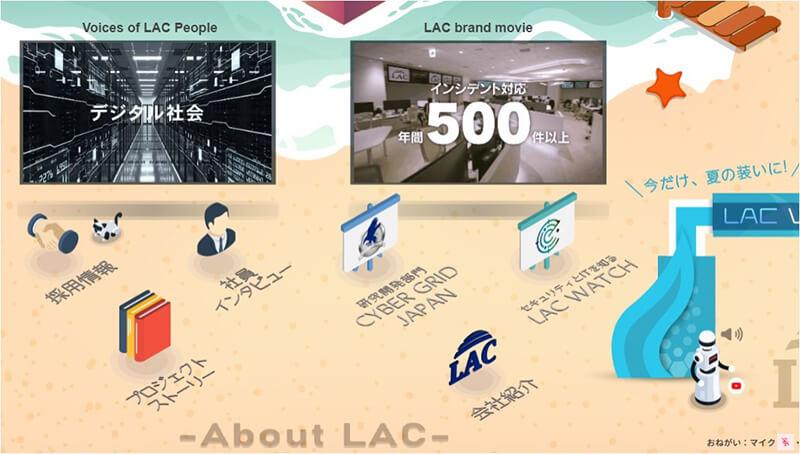 At the forefront, we have the LAC-run in-house media "LAC WATCH" and the regularly published report "CYBER GRID JOURNAL".
LAC WATCH continually publishes a variety of information on security topics. We also offer technologies and topics related to the products LAC handles, articles focused on engineers, internal events and communications, case studies, and webinars.
"CYBER GRID JOURNAL" is an informational magazine published by Cyber ​​Grid Japan, the research and development department of LAC, approximately once every six months. We offer a wide range of highly specialized topics such as technical support fraud, international affairs, cyber warfare, and security career paths.
At the back of the left side of the entrance are employee interviews, project introductions, and recruitment pages. In fact, many students visit the LAC Virtual EXPO, so it may be possible to expand the plan to recruit new graduates and create a new "recruitment" booth including mid-career recruitment.
Archived videos to learn about the latest security tools
At the far end of the venue, on the left side of the private stage, are placed archived videos of past webinars, such as webinars sponsored by LAC and co-sponsored with other companies.
LAC also has an official YouTube channel, but even if students and future clients want to learn about LAC, there are so many videos that they may not know where to start. First, we recommend watching the archived video, which can be found here.
Consider future plans
Although "LAC Virtual EXPO" is in the midst of changes, we have considered many projects so far. Among them is also a rejected project. For example, holding a Zoom event in place. If you go to an external link and do a webinar there, you don't feel like you're participating in the action in the place, so it's gone.
In the future, I would like to tell you about the projects that led to the decision not to adopt them and their reasons in Virtual EXPO News. I may not be able to provide detailed conditions and numbers, but if I can provide KPIs and dashboards, it could be useful for those who run similar events.
Would you like to do it together? I will be glad if you can give me a suggestion. We also accept requests like "I want to see such an exhibition!" In the future, I would like to introduce the problems and trial and error of planning and operation.
Thank you for your continued support of "LAC Virtual EXPO".
An overview of the LAC Virtual EXPO event
a period
a period
April 4, 2023 (Fire) ~ Permanent exhibition
place
online (oval)
Entry Fee
Free (only simple guest registration required to enter)

* The re-entry URL will be sent to the email address registered at the time of visitor registration.

The URL of the place
https://www.lac.co.jp/lp/lac-virtual-expo-entrance/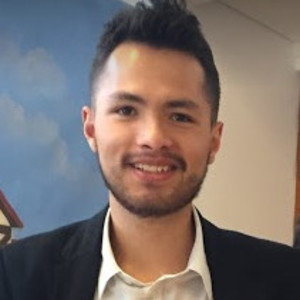 "Travel maven. Beer expert. Subtly charming alcohol fan. Internet junkie. Avid bacon scholar."