Alienware laptops have long been considered the epitome of gaming laptops. The famous space symbol alone as a trademark makes the claim clear. The Alienware makes no compromises visually, although the m16 is reserved in terms of color. The aluminum screen cover and bottom are made of anthracite, and the tailpiece at the back, hinge and keyboard cover are made of black plastic. When turned on, the back becomes eye-catching. A subtle LED strip frames the air outlets and connection bar. Of course, as with all gaming laptops, the RGB lighting can be color-adjusted to suit your specific desires.
Neither compact nor light
There's not much to criticize about the Alienware m16's workmanship, in principle, the laptop is very well made. You can only complain about the details. This is especially true of the screen, which is ultimately very soft and sits on a fairly rigid hinge. The situation remains stable even in the event of strong bumps. However, the Alienware m16 is anything but stylish. The 37 x 29cm footprint is not small at all for a 16-inch laptop; The same applies to a total height of more than 2.5 cm. Things can quickly get cramped in the classic laptop compartments of briefcases and backpacks. The weight of 3.3kg is not low at all.
Alienware m16 has a good IPS display
When it comes to the display, Dell delivers near-standard for the top performance category. The 16-inch diagonal panel has an aspect ratio of 16:10 and displays screen content at a resolution of 2560 x 1600 pixels. The 240Hz frame rate is also consistent with the current state of things. The IPS display also delivers rich colors and of course the DCI-P3 color space is covered at 100 percent.
Fast AMD processor meets Nvidia GPU
The Razer Blade 14 recently showed that AMD can also develop processors for gaming laptops. The Alienware m16 is also proof of this. The Ryzen 9 7845HS has eight 5.2GHz CPU cores that can process 16 threads in parallel. Compared to its counterparts in the Intel Core i9 series, the AMD processor can not only keep up with single-core applications in Geekbench, but it can also keep up with multi-core testing with ease — although Intel can handle eight more threads with a much larger number of cores. . This again shows that AMD has the contract manufacturer with TSMC to produce them with a more efficient 4nm process, while Intel's chips are still currently produced with a 10nm-wide architecture.
When it comes to the graphics card, Dell relies on the current near-standard for powerful gaming laptops: Nvidia's Geforce RTX 4070. The GPU, which has 4,608 shaders, is less than half that of the current flagship Geforce RTX 4090, which was last tested in the Lenovo Legion Pro 7 and also has to make do with "only" 8GB of graphics memory, saving about two-thirds the performance. This is quite enough to do justice to the capabilities of the built-in display. High performance is only necessary when a gaming monitor with a very high resolution and/or high frame rate is connected and games are played at maximum quality levels.
The m16 fans are constantly hissing, but they remain quiet even under load. However, sonically, they move at higher pitches.
Lots of RAM, but only average SSD size
The Dell laptop also lives up to expectations when it comes to memory. For smooth gaming, the CPU is backed by 32GB of DDR5 RAM, which is unobtrusively distributed across two memory banks. If you want to upgrade to 64GB later, you will have to replace all of the RAM.
To store data, Dell relies on an SSD from Western Digital, which provides a storage volume of up to one terabyte and achieves high transfer rates. Data is read at approximately 7,050MB/s and write speeds are approximately 5,400MB/s.
On battery power: Runs hot while gaming
The Alienware m16's large body also provides plenty of room for the battery. Dell relies on an energy storage device that can hold 86 watt-hours of capacity in six cells. This is no small amount, however battery operation is not one of its strong points. After an hour of browser use, about a third of the mobile reserves are used.
However, when gaming, the m16 doesn't hold up nearly as well as the Razer Blade 14, which we recently tested with a similar hardware configuration. After an hour on the track in Asphalt 9: Legends, the fill level was still 10 percent. The speed is significantly reduced.
Our test system was no longer able to play the game without errors in the second half of the test run. Not only were there significant delays, but there were also problems with sound reproduction. When the power plug is inserted, the errors disappear and the housing temperature decreases.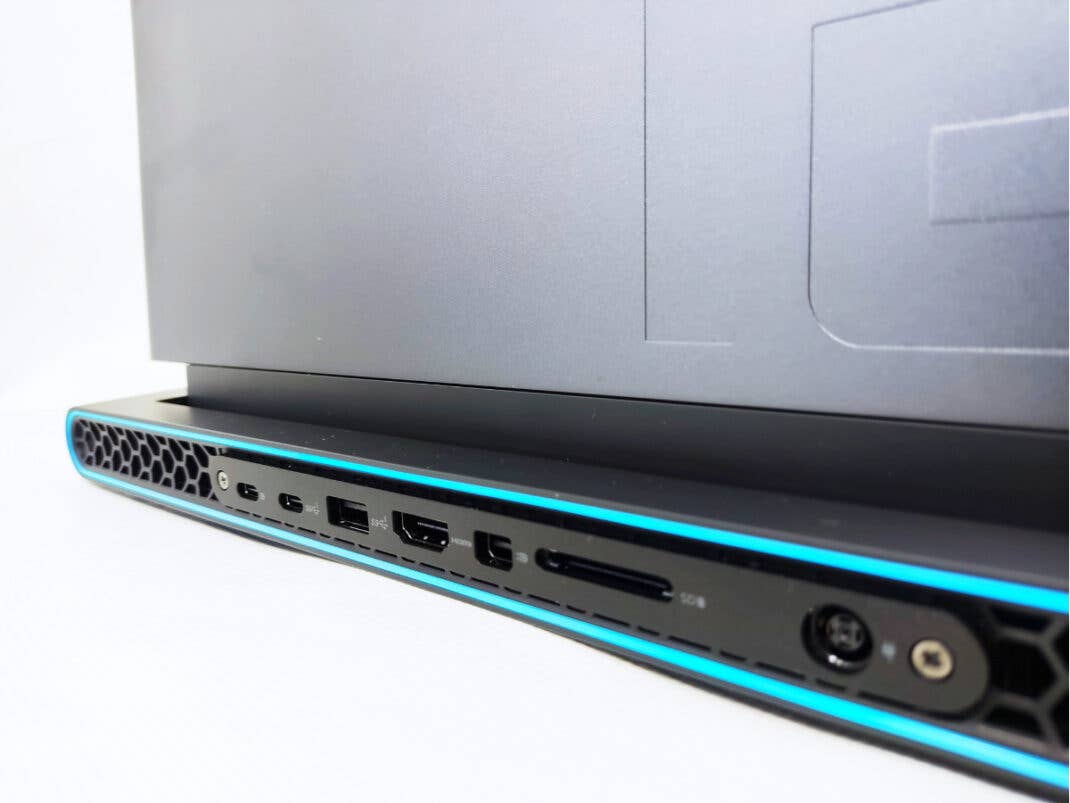 Alienware remains loyal to the LAN port
The Alienware m16 not only aims to satisfy gamers, but also has a small feature: an SD card slot, which mainly supports media professionals in their work. Additionally, peripherals can be accessed via four USB ports, with two of the slots having a Type-C design. These are compatible with the 3.2 Gen 2 standard, and the classic slots are based on the 3.2 Gen 1 specification. There's also HDMI 2.1 and a mini DisplayPort.
The network can be accessed – as appropriate for a gaming laptop – via a classic LAN using a cable. For wireless communications, Dell uses Qualcomm's WCN6856 module, which ensures network access according to the WiFi 6E standard. It also comes with Bluetooth 5.2.
Alienware m16: Good keyboard and small touchpad
Not only does the keyboard shine with strong colors, but it is also attractive in terms of its functionality. The keys move clearly in depth and stop at a specific pressure point. The touchpad is rather small with dimensions of 11.2 x 6.5 cm. However, if you want to play extensively, plug in your mouse anyway.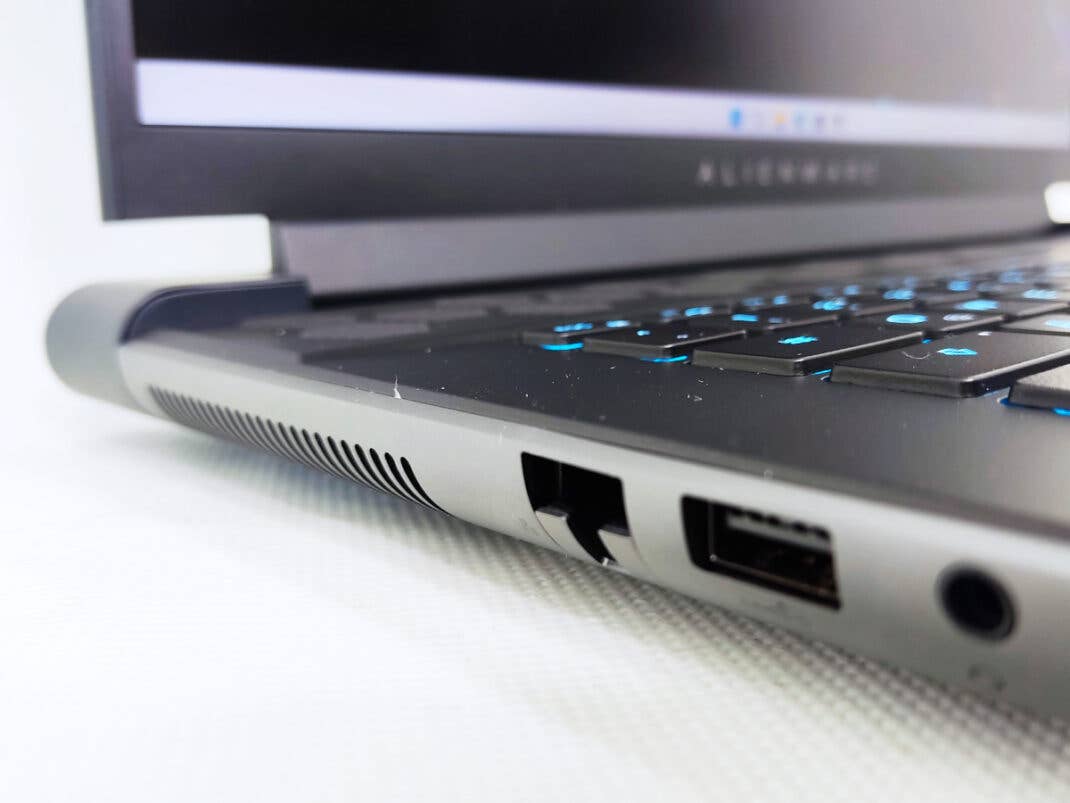 Conclusion about Alienware M16
The Alienware m16 is a successful gaming laptop. From processing to display to hardware performance, the Dell-owned manufacturer delivers more than just good performance. The only minor drawback is the case, which is quite large even for this category. In the configuration tested, the M16 costs just over €2,400. On the other hand, the cooling system leaves a contradictory impression. Basically, the m16 is one of the quietest devices of its kind, however, the fan control seems to need a firmware update. When operating on battery power, the notebook heats up significantly, resulting in significantly decreased performance. If you want to realize potential savings, you can reduce the configuration. Switching to the weaker Nvidia Geforce RTX 4060 saves €400.
for every
Stable and well-made housing
good offer
Relatively quiet
cons
Not lightweight, quite bulky
The case sometimes heats up too much under load
Moderate battery life

"Unapologetic analyst. Infuriatingly humble coffee evangelist. Gamer. Unable to type with boxing gloves on. Student. Entrepreneur."