Written by Louisa McMahon on .
Page 1 of 2
3 – 2 – 1 – Go! Can you occupy the missile with the largest possible number of aliens of the same type? And most importantly, load the right amount of fuel so there is no wrong start? And you have the largest number of crystals with you? Perhaps your luck on the dice will decide whether you win or lose.

PIATNIK made SPACE TAXI available for us to review.
This does not affect our rating!
And this is how it works
Initially, the game board is placed on the table, and the starting player's left neighbor receives the 0-4 point chips and places them face up in front of him. Space coins are placed next to the playing field. Each player receives 3 space coins. Now the game begins.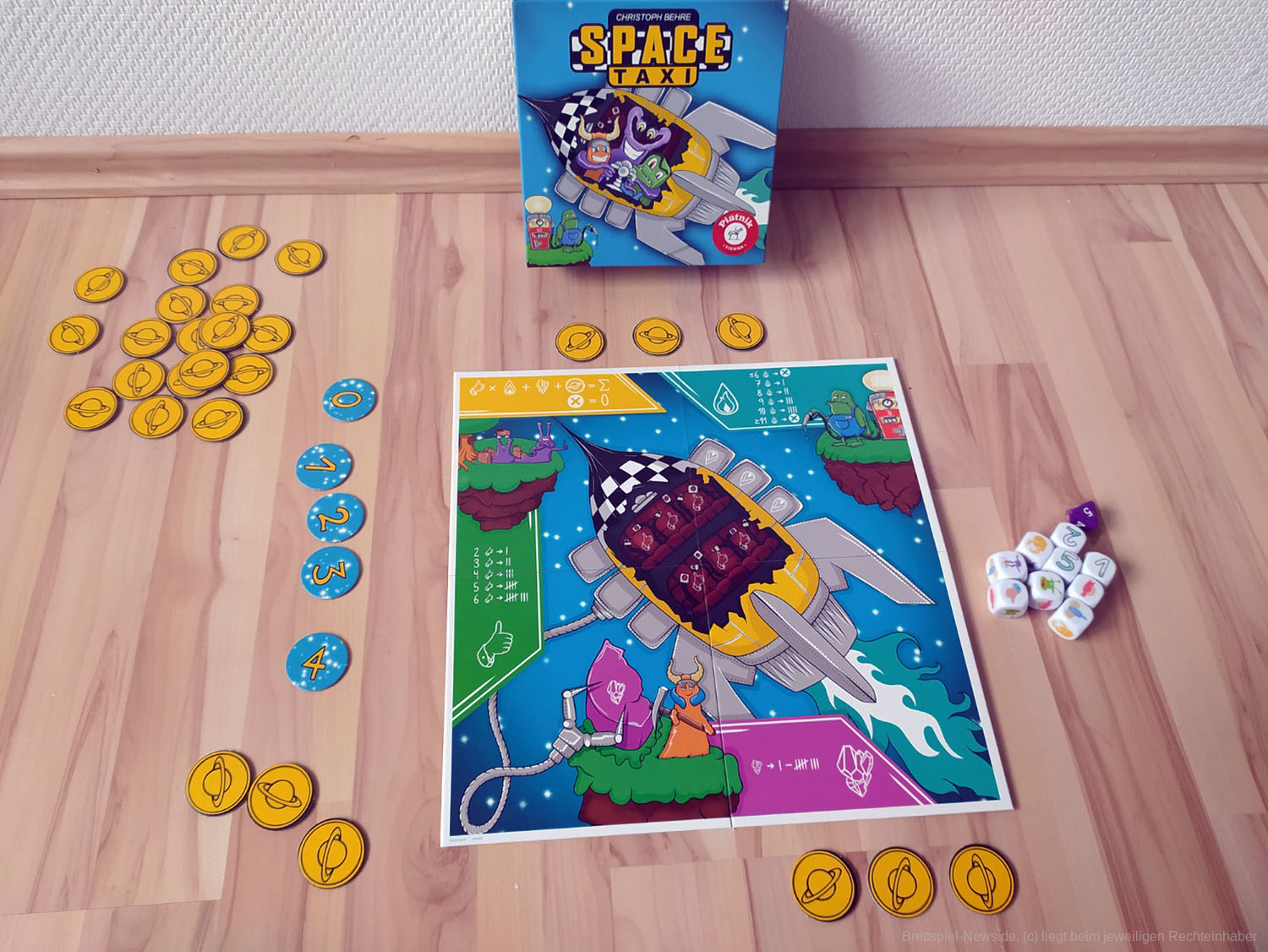 There are 3 areas that must be covered. Put passenger dice in taxi, fuel dice into fuel tank and smuggling dice into crystal mine. In order for players to get points for aliens in the taxi, players must have at least two copies of each type in the taxi. The fuel tank has a capacity of 7-10 only. If the score is higher or lower at the end of the move, a false start occurs. If the Smuggling Mold is not discarded, it should achieve a higher result from round to round, otherwise it is completely dropped.
The starting player rolls all ten dice. In the first move, he can place between 0 and 4 dice on the court on the corresponding fields. If he decides to place 3 dice, for example, the left-hand side flips the number 3 and in the next round he can only place 0, 1, 2 or 4 dice. According to this principle, the movement continues until all the dice are dealt on the field.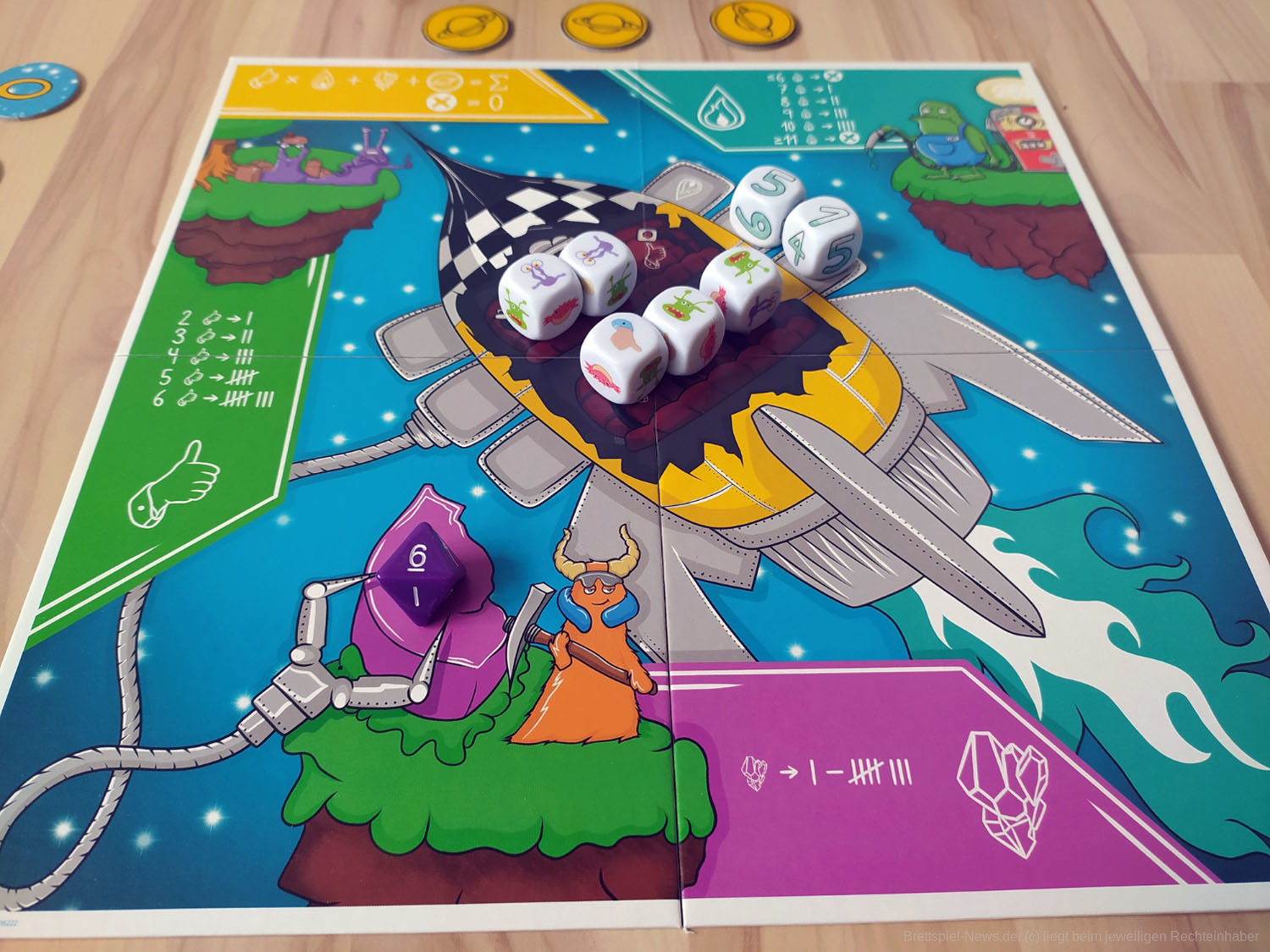 Then the points are added and written down. The number of rounds varies according to the number of players. Whoever gets the most points at the end of the game wins.
Game material
The material of the game definitely fulfills its purpose. It looks like it's well made and will definitely last many evenings of games. There is no sorting system in the box, but enough bags are included so that you can separate several chips and cubes from one another.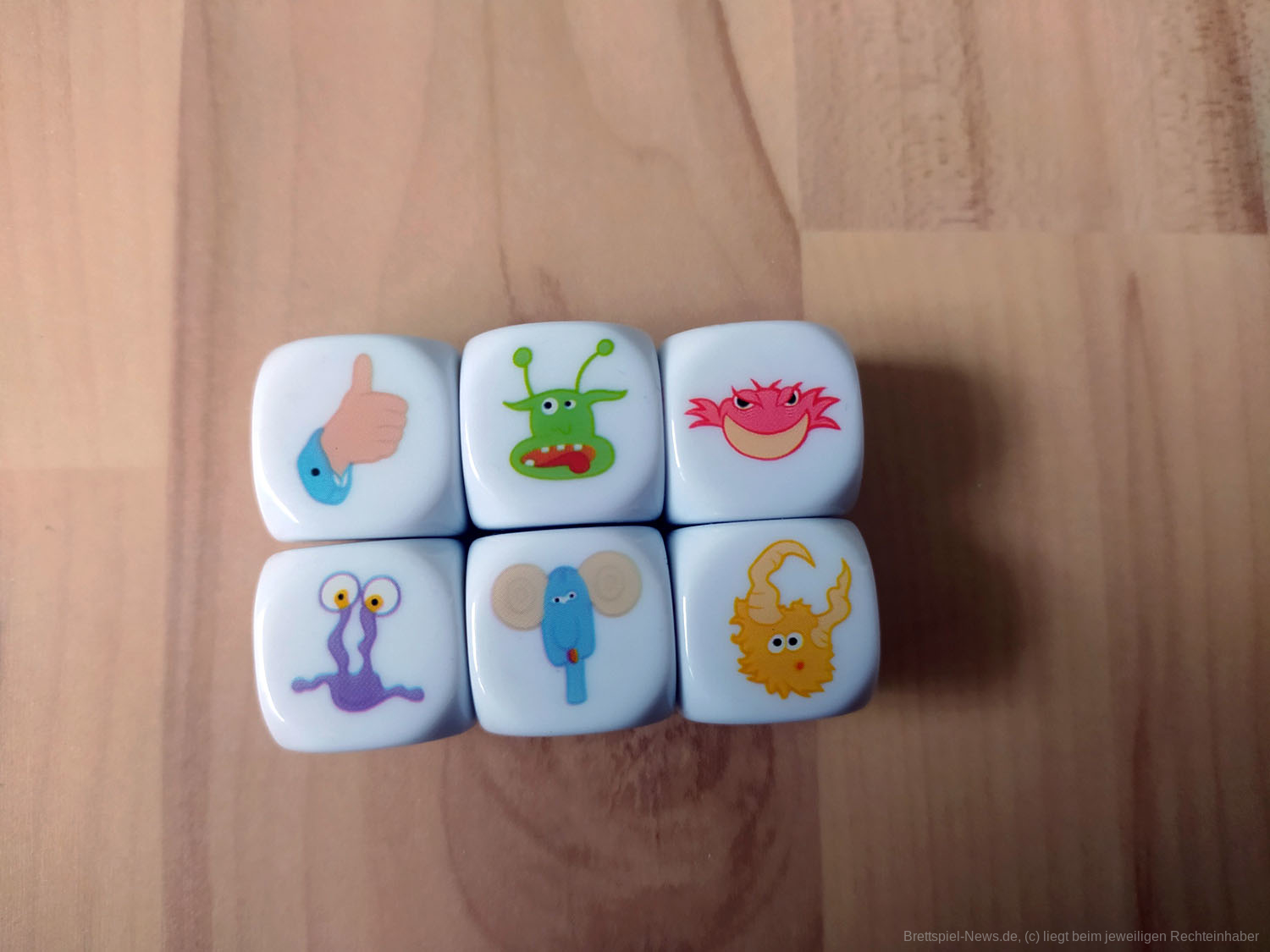 Unfortunately, the dice cup is missing. The ten dice, some of which are quite large, are not entirely easy to hold, and the hands of smaller children will certainly not be able to hold the ten dice in one hand.
Labels: 25 minutes, dice mode, 3-5 players, space, family game, real time

"Travel maven. Beer expert. Subtly charming alcohol fan. Internet junkie. Avid bacon scholar."