Drangsal released a new song with "Urlaub von mir" and at the same time announced a new album, titled EXIT STRATEGY, on August 27th. In the new piece, he negotiates a quarrel with his own personality and at the same time reveals his extreme ambition: "I want a lot / I don't even dare to ask / No matter what I get / I'm never satisfied"
Adversity frees itself from the shackles of "good taste"
It seems as if the artist, who lives in Berlin, will finally reach the stars with his third album and break free from all the restrictions of the supposed "good taste". One inevitably thinks of the young Farin Urlaub, who for years was able to deliver the speeches of his era in an accessible and egalitarian format and interpret pop music in the way that it has developed its greatest possible impact – as folk music.
Many greats participated in the German music scene
The eleven pieces were produced by Patrick Majer, who was also responsible for Rosenstulls and Wear Sind Helden's music. Although Drangsal wrote the script and music himself, many other greats from the German music scene contributed to the creation of the record: he sought advice from Dirk von Lowtzow and Casper in a few lines, and composed solo extensions with live guitarist Oliver Heinrich. In the choirs, you can hear the voices of musicians Ilgen-Nur and Mia Morgan, and the violin from Sam Vance-Law.
"Who am I? Who am I and who do I want to be?"
Themes of EXIT STRATEGY are love, beauty, doubt and dissatisfaction as well as the theme of identity. "Who am I? Who am I and who do I want to be?" According to the cover, the ordeal is not shy about shedding light on the darker sides of his being.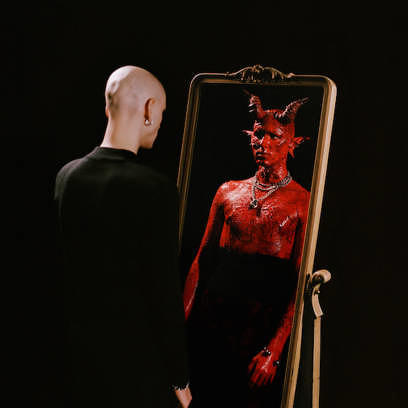 Here is the EXIT STRATEGY track list
1. Escape from imagination
2. Exit strategy
3. Girls are the most beautiful boys
4. Rot
5. Ledrian
6. I am not beautiful like you
7. Leave me
8. Schnuckle
9. Benzoin
10. A song that never breaks
11. Carousel
Drangsal is a musician born in Herxheim near Landau / Pfalz. In 2016, he released his first single, HARIESCHAIM, across Caroline International, embracing the new sound wave of the 1980s and sang almost exclusively in English. With Caliph Zores, he turned to German. At the time, ME author Jochen Overbeck concluded his review with the words "What an insanely interesting album, what a man!"

"Explorer. Communicator. Music geek. Web buff. Social media nerd. Food fanatic."