I've been working with Windows 11 for a few weeks now and have been testing the new Windows for everyday use. We've given you a preliminary assessment of whether switching from Windows 10 to Windows 11 is worth it Already in this article. There you will also find out exactly how and when you will receive the new operating system from Microsoft. In this Windows 11 Experience Report, I'll tell you my first impressions and the most relevant points for me.
Installing Windows 11
Of course, I can't talk about every conceivable program. But in my case, there were absolutely no issues when switching from Windows 10 to Windows 11. Suddenly I got a notification that my device was now "ready" to switch and was then able to start the installation. It's already running in the background, so I can continue to work normally while downloading. Finally, I was prompted to restart the computer and after a short wait while the update was installing, I was able to continue working as usual – now on Windows 11 instead of Windows 10.
Compatibility with Windows 10
After the update, everything ran smoothly as before. All programs work without any problems under Windows 11 and my files survived the change unscathed. Of course, I can't talk about every conceivable program here, but the basics like Office programs, various games, but also game engines, code editors and other software like Krit or blenders Run without problems.
ad

The new design of Windows 11
Perhaps the most obvious change is the new look of the operating system and therefore I would definitely like to mention the new design in this Windows 11 review. Windows 11 is more awesome than its predecessor! This made me really happy. Everything looks simpler, while important icons are better marked and easier to find. As a result, all user interfaces appear more neat and tidy.
The usability of the UI has also been greatly improved, at least in my experience. If you press the Windows key in Windows 11, the start menu opens. Here you can scroll through all the installed applications. In fact, the search bar is more front and center arranged more. So instead of complicated scrolling through a list of all installed programs, you can just search for the name of the program! Even under Windows 10, this was actually my favorite way to find apps that I didn't have a shortcut to in the taskbar or on my desktop. This has not changed significantly, but has become more user-friendly, and therefore more practical.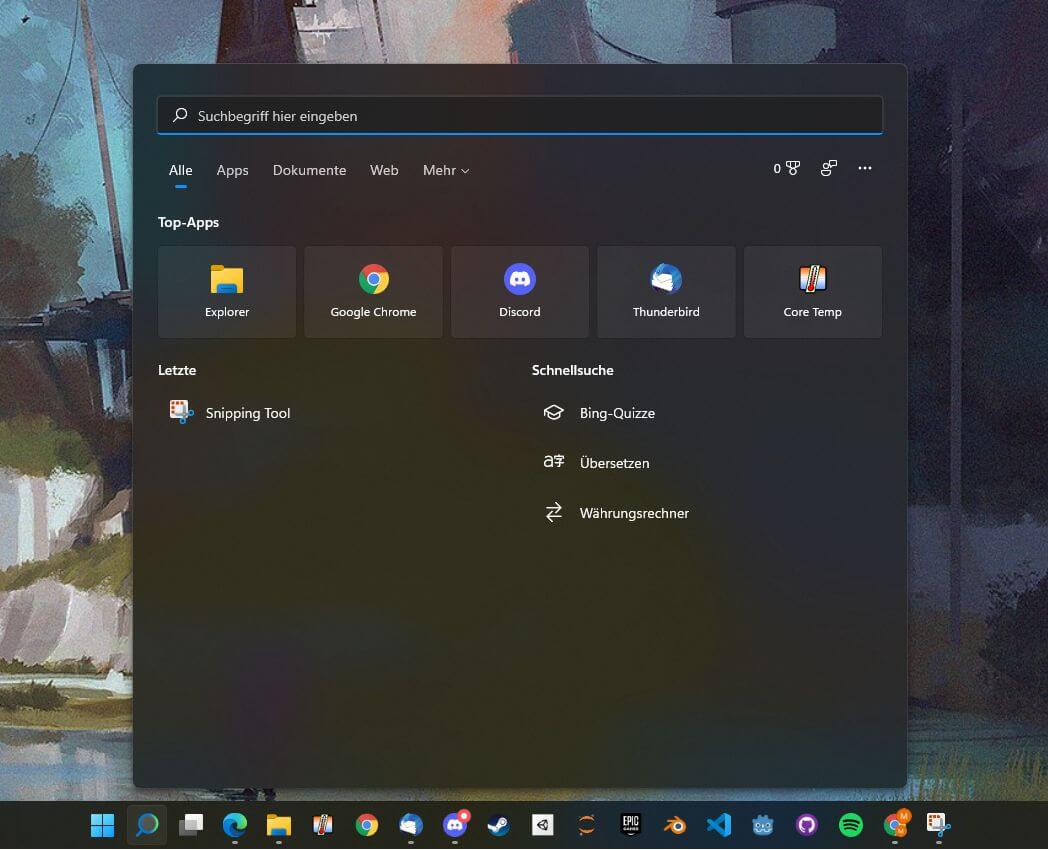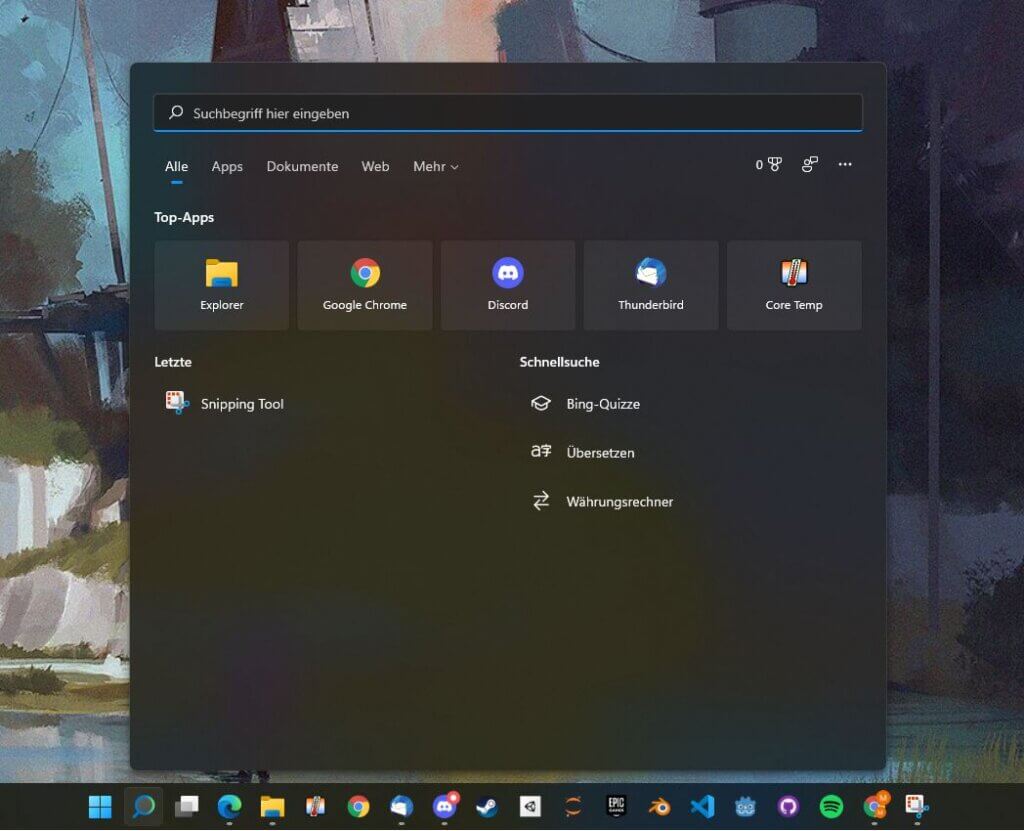 New taskbar (center)
Actually a purely cosmetic change: the taskbar can now be centered. I think this is great from a purely aesthetic point of view, because the desktop is more symmetrical. However, if you prefer to align the taskbar to the right or left, you can still do so via the taskbar settings. To open it, right-click on the bar itself.
I also like the fact that the taskbar now spans across multiple monitors. In Windows 10, it was only displayed on the Home screen. This was especially annoying when running a full screen app and you had to exit it first.
However, the taskbar under Windows 11 also has a very obvious flaw. While there was no problem in Windows 10 with just dragging and dropping the shortcuts into the bar, this is no longer possible in Windows 11. To do that, you must first start the application. If the corresponding icon appears in the taskbar, then it can be added to it by right-clicking. But this problem should be resolved soon.
Navigating in File Explorer
File Explorer hasn't changed much apart from some changed icons. However, now the icons stand out more clearly and also differ better in color from each other. This makes navigating here much easier. In addition, some important functions are very prominently displayed in the Explorer title. On the far left you will find the option to create something new – for example a text file or folder. On the right are the following buttons:
chopped off
copy
Insert
rename
release
delete
This in and of itself isn't a particularly exciting change. However, you will find a similar title if you right-click on a file or folder. This is very practical, under Windows 10 you still have to go down in the window that opened, for example to rename the file.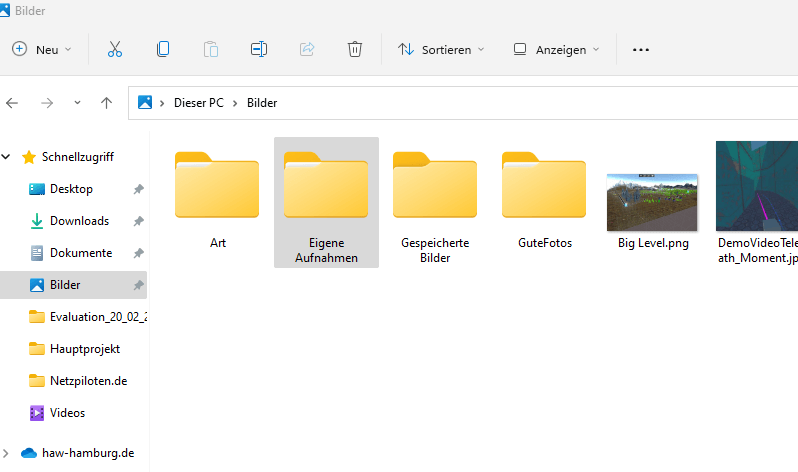 open console windows
While most users rarely use a terminal or powershell, this functionality is especially important for developers. If you wanted to open a new Powershell in a specific directory under Windows 10, this functionality was somewhat hidden. With Shift + right-clicking on an empty spot in the directory, Powershell opened in the directory. With Windows 11, this functionality is available via a regular right-click. This is also a marginal change, but it makes the process much smoother.
the performance
Poor performance under Windows 11 has been reported online in many places. I can neither confirm nor refute that in general. However, as PC World reports, any differences are very small and usually only affect very specific individual processors. I certainly did not notice any deterioration. On the contrary, I had the feeling at times that everything was going more smoothly. But I can't say whether it was because facts or a gut feeling cast a shadow on the elegant surface.
Windows 11 Experience Report Conclusion – Actually not a lot, but a lot of feelings
In all honesty, Windows 11 doesn't really reinvent the wheel. But it's not necessary at all and I think it's a good thing that it's so close to Windows 10. In my opinion, at least from a user's point of view, this was a really good operating system. Anyone who has settled here will handle Windows 11 great and probably be happy with the many small improvements in usability. At least that's how I felt.
The simpler and quieter design of Windows 11 definitely convinces me. It's good to work on Windows 11 if you like what you see.
Since there are no issues in terms of performance and compatibility, I can only recommend switching to Windows 11. However, please remember: make a backup before updating. You never know 😉
---
Microsoft picture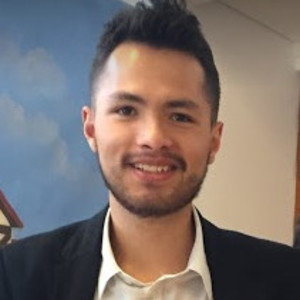 "Travel maven. Beer expert. Subtly charming alcohol fan. Internet junkie. Avid bacon scholar."