(extract from press release)
Dusseldorf, 08 March 2022 – Toshiba Electronics Europe announces the product development strategy for hard disk drives (HDD) for Toshiba electronics and storage devices. The roadmap focuses on the significant increase in storage capacity.
Toshiba expects the storage capacity of future generations of nearby hard drives to reach 35 TB by the end of fiscal year 2024, that is, in March 2025; By 2026, the 40 TB limit will be exceeded. These goals are achieved with up to eleven turntables in conjunction with Toshiba's innovative recording technology. The recording density has also been significantly increased using FC-MAMR and microwave-assisted magnetic recording (MAS-MAMR). As these techniques use additional power, the magnetic power required to write bits is reduced. This circumstance leads to a better signal-to-noise ratio and thus to a smaller space requirement for the magnetic bits. This allows manufacturers to plan more bits per region, which in turn allows for more storage capacities. In addition, the performance of traditional recording technology remains unchanged, while the total cost of ownership is reduced while increasing storage capacities in the long run.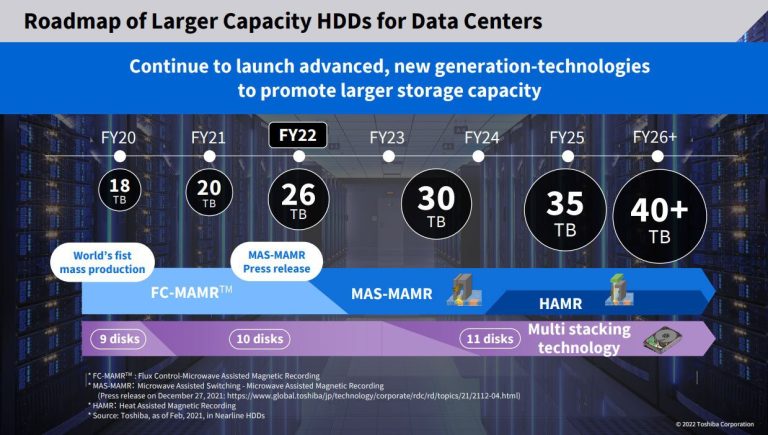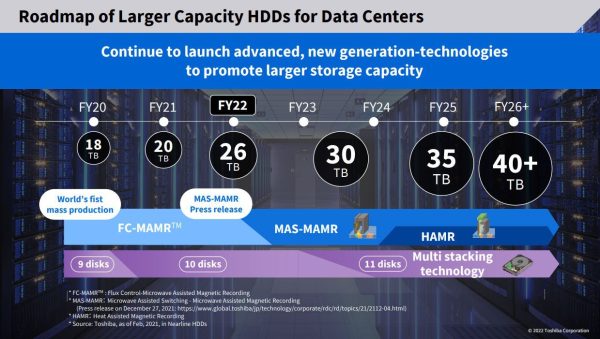 "Data underpins nearly every action we take every day. This development is having a huge impact on the storage sector as unprecedented amounts of data are being generated and much of it is stored in the cloud," explains Larry Martinez Palomo, General Manager of Storage Products Division at Toshiba Electronics at Europe. "Working closely with major cloud service providers, Toshiba has gained valuable insights into future data storage needs. Implementation of our advanced high-density FC-MAMR and MAS-MAMR hardware ensures that critical data storage capacities are maintained as well as robust read and write performance parameters and longevity default."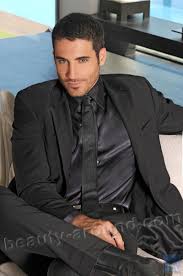 "Certified tv guru. Reader. Professional writer. Avid introvert. Extreme pop culture buff."