Written by Uwe Schnepf on .
Page 1 of 2
Your father, the king, finally wants to settle his estate. "My kingdom is for a horse, that's how it should be." So the new king will be the one who will raise the quickest dowry among you and put loyal subjects of sheep, pigs and cattle at his side. Will you do your best to emerge victorious from this competition with your brothers in the end?

KOBOLD VERLAG is kind enough to make my kingdom for a horse available for us to review.
This does not affect our rating!
Horse breeding for beginners
MY KINGDOM FOR A HORSE is a game for 1 to 4 people, ages 8 and up, that combines spinning, writing, hand turning, crafting and puzzles. For about 30 minutes, everyone has to prepare their own horse breeding as soon as possible. If you can own two horses first and also build a field of two sheep, cattle and pigs, you win the game.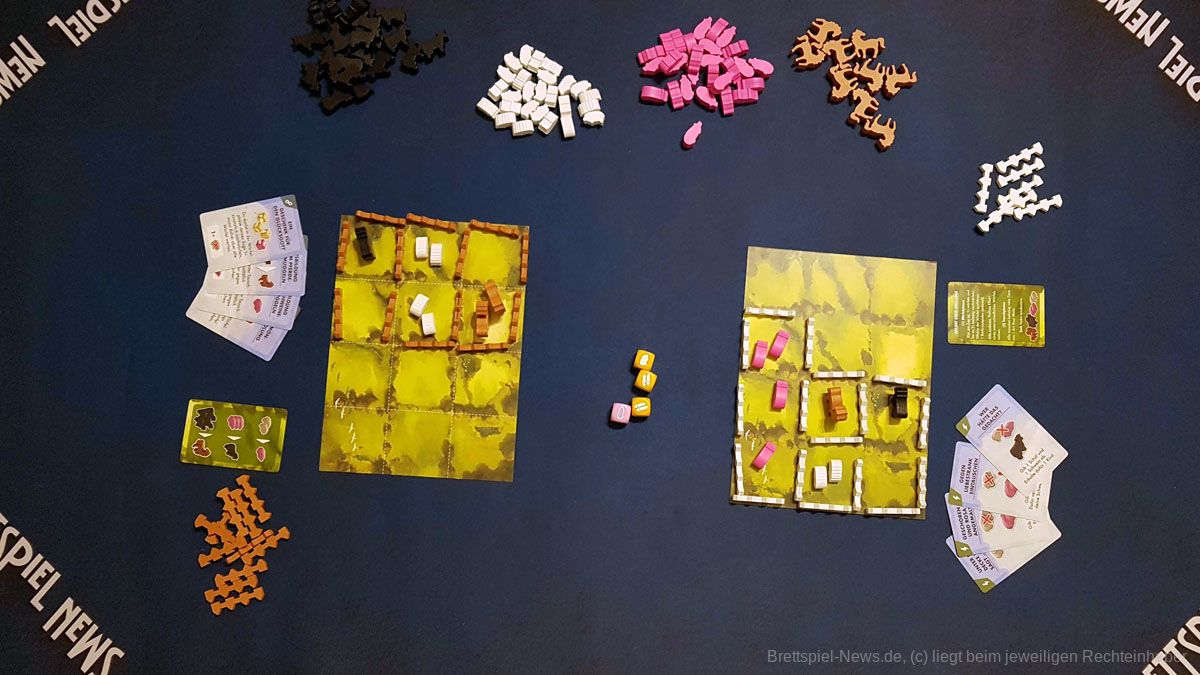 At the beginning of the game everyone has a small farm with a few sheep and pigs. With a bit of luck, they should be increased and then replaced by valuable cattle and horses. But how does it work?
In turn, you roll three yellow and one pink dice. If you don't like the result, you can roll any number of dice up to twice. If you are satisfied with the result, you will get the animals and fences indicated on each stone. Passive players can then take turns choosing dice, each of which can only be used by one person. Since the cattle come directly after the horses in the game order, you need two dice for one cattle. On the other hand, a horse is not rolled on dice at all. This can only be obtained by exchanging four flocks.
It is now important to put new acquisitions on your farm board. The general rules for keeping animals must be observed. These state that only animals of the same species can be kept in the gate. In the event that the space is running out, additional fences will have to be built or the existing ones arranged differently. In addition, it is possible at any time to transfer animals from one gate to another, as long as the general rules for animal husbandry are met.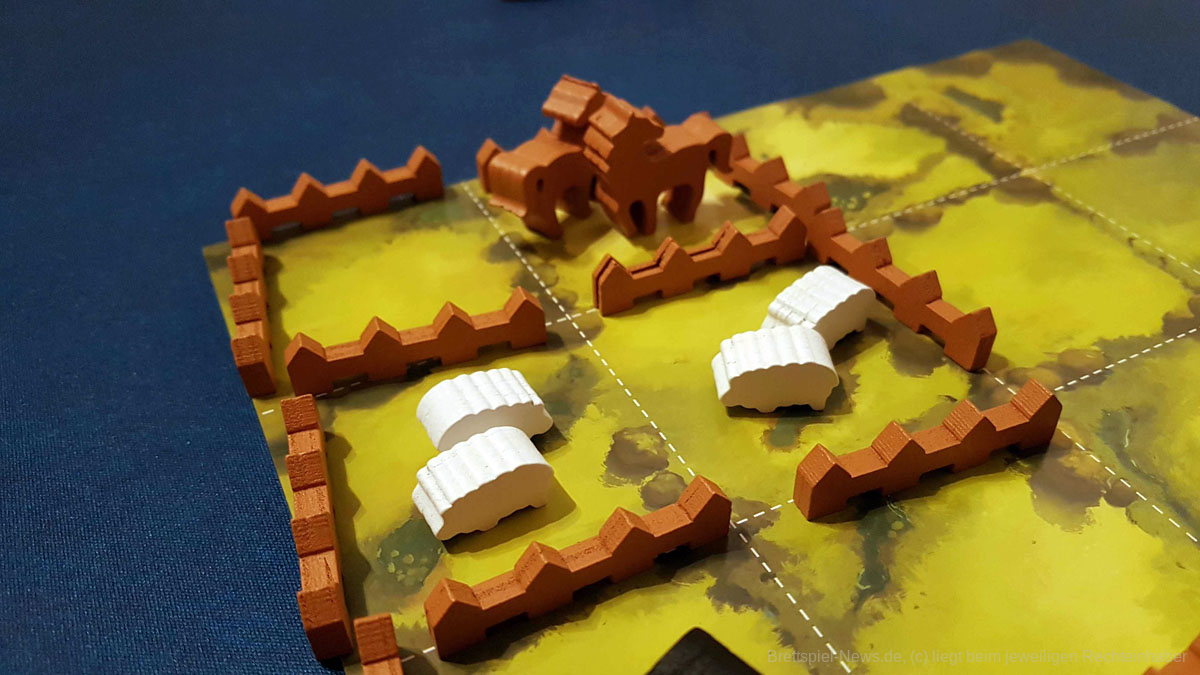 In the last step, there is a possibility to swap animals. This part of the game is always played along with all other people. Animals have different values, and for this, for example, fewer sheep are needed for pigs than for a horse. Only one type of animal can be traded per turn. If the supply runs out, everyone must either return or exchange a portion of the animal species that has run out.
Then the active person's turn ends and it's the next person's turn. The game ends after the round in which the first person has two animals of each type. The others then have the opportunity to fulfill this victory condition by exchanging them.
halves of cattle and pig
A wild horse with a golden mane decorates the cap of my kingdom for a horse. This definitely reminds us of movies like Spirit – The Wild Mustang. Sheep, pigs and cattle can be seen in the background, staring in awe at the magnificent stallion.
And therefore it is not surprising that inside the box there are valuable animals and wooden fences, which are the main components of the game. However, the fact that they appear to be glued together from individual layers of wood tarnishes the positive impression a bit. We found it particularly unfortunate that the individual player boards were made only from thinner cardboard. The four cubes that give the single My Kingdom FOR A HORSE the most attractive. The half beef is particularly strikingly weird. The game can be played with or without additional playing cards. Cards are available in German and English for this purpose.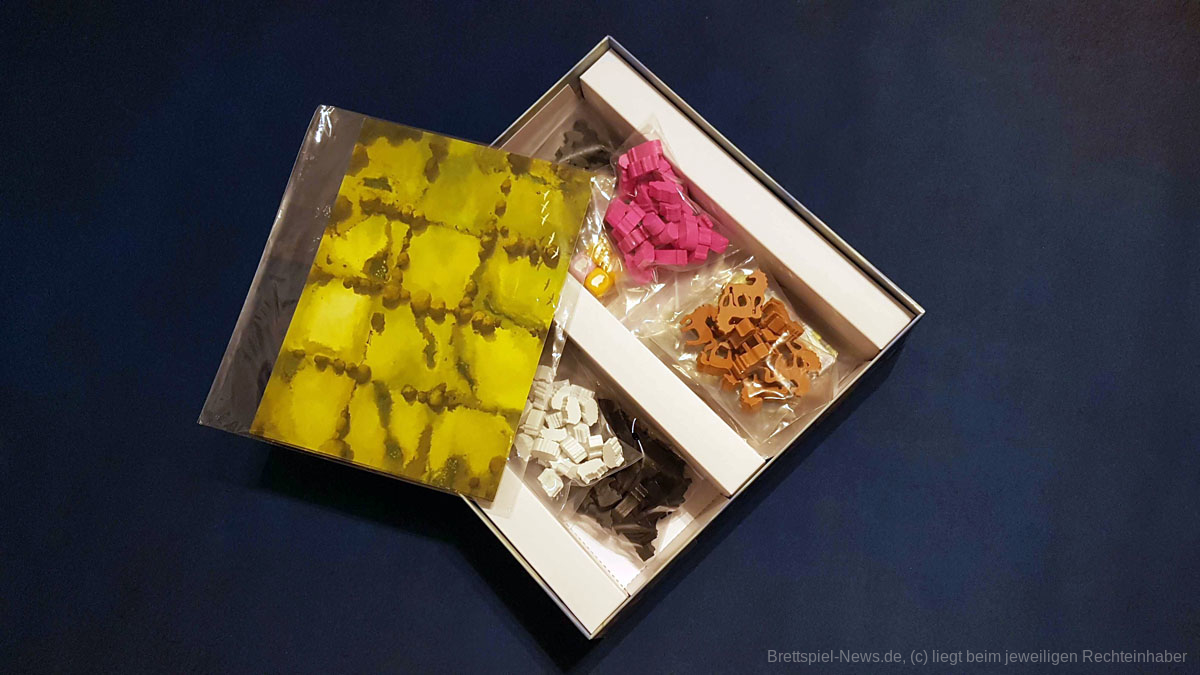 The instructions consist of eight pages and are only available in German. We found it particularly helpful if the general rules for keeping animals are explained first and then the actual course of the game discussed. Some spelling errors crept into the rulebook, but that's not a problem. The included game aids also proved very useful, as they are a good reminder of the exchange relationships between animals.
Tags: 1-4 people, crafting, 30 minutes, roll and write, manual management, puzzle

"Travel maven. Beer expert. Subtly charming alcohol fan. Internet junkie. Avid bacon scholar."