Set between seasons 2 and 3, this comic offers some fun. We are reviewing.
content (propaganda)
Poison Ivy actually wanted to marry the mean supervillain Kite Man – but the wedding falls apart because Ivy feels more attracted to Harley Quinn! However, the honeymoon should not be canceled! But now Harley and Ivy are embarking on a crazy emotional road trip! However, they are being pursued – by James Gordon, Gotham City Police Commissioner. He's determined to take Harley Quinn down – even if it means killing her!
criticism
Harley Quinn has gone through the roof with her cartoon series and I have to say she is really good too. Now the comic of the series and this starts right at the end of the second season and continues the story. Even though Ivy isn't married, that doesn't stop the two messy ladies from going on their honeymoon anyway.
Technically, the plot is based on the series, even if it doesn't quite hit its class. Backgrounds in particular appear less detailed because they are monochrome. However, the characters still have a high esteem and can also show their feelings.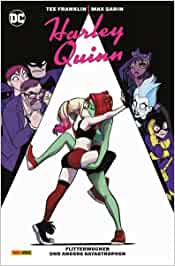 As mentioned, the story closes a small gap here and the two women slip from one blunder to the next – just like in the series. But that's not the best thing about this volume, it's the strong character scenes. Not only does Harley not feel safe on top again, but Ivy also has to confront her own thoughts about the relationship. She also has to figure out that Harley isn't to blame for everything and the two eventually get over themselves. This is wonderfully and lovingly shot and reviews the entire story.
Of course, some other well-known characters also appear, such as Zatanna or Vixen, to name a few. Of course, they're not in the spotlight like the main couple, but they do a great job of supporting us. After all, there's also a villain out for stink (actually several). This has to be defeated, which turns into the usual whack-a-mole, but that too is bolstered by beautiful character scenes – quite literally – that also make them stand out.
And then, last but not least, presents Gordon, who is drifting more and more insane here. The deconstruction of this figure is thus pushed further, of which one can of course have different opinions. In the context of the super animated series, that's fine – guest appearances for Nightwing and Batman included. We'll have to see how the third season, which will be released soon, either picks up or ignores the comic's theme.

"Explorer. Communicator. Music geek. Web buff. Social media nerd. Food fanatic."