who – which Domradio was the fastest and published the first review of "Retreat or Crusade?"! The main focus was on speculation about the future of Christianity and Christian churches.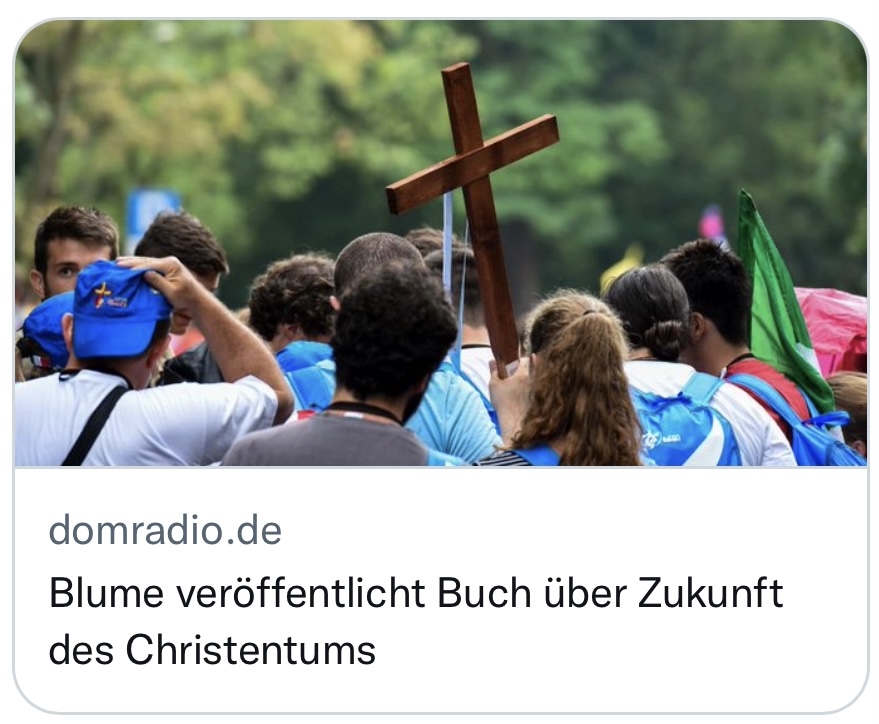 Dealing with Twitter to KNA/Domradio review of Michael Bloom, "Retreat or Crusade?" , Patmos 2021. Screenshot: BlumeEvolution @
This also gives me the opportunity to present the political expectations that are also included – which will not please everyone. Because I have dealt with the effects of demographics, digitalization, and the climate crisis, and I have devoted the entirety of Chapter 3 to issues of geography (landscapes and changes). Building on the heat-killing thesis, I ended up with a disturbing discovery, among others summarized on page 123:
"According to my speculation, we are approaching a world in which there are regional, monist, and multi-religious vessels with smaller but wiser churches asserting themselves against regions that are lagging behind, and even dying."
In light of the long-term decline in the birth rate in Eurasia and Austronesia as well as for all Americans "Education-oriented monists in particular are increasingly leaving the binary and poorly governed regions of the world – as is happening today not only from Iraq, Iran, Afghanistan, Turkey and South Sudan, but also from Belarus, Venezuela and Hungary." (p. 122)
In other words, while fewer and fewer regions of the world continue to attract immigration, more and more regions will end up in a downward spiral with virtually no result in the face of declining birth rates" and "migration – becoming obsolete, as underdeveloped systems stabilize." In turn, it is adapting to the climate crisis more and more difficult. China has already been affected demographically, economically, and politically by this rapid population decline. On the other hand, younger, education-oriented people of different origins will move onto the 'ships' – eg areas of Singapore, New Delhi, Iraqi Kurdistan, Lake Constance, Basel, Munich, Frankfurt, Berlin, etc. These factors, economically, demographically, and thus culturally, are dynamically active between religions and politics.
In short: I clearly suppose that in light of demographic upheaval and climatic catastrophe, large parts of the Earth's surface will be affected by population contraction and that competition in the future will be less between nation-states and more between cities and regions. . While the deadly climate and heat refugees will face ruthlessly closed borders, and even walls, in many places, opportunities for global migration will also open up for educated professionals.
I even think that this process has already started remarkably.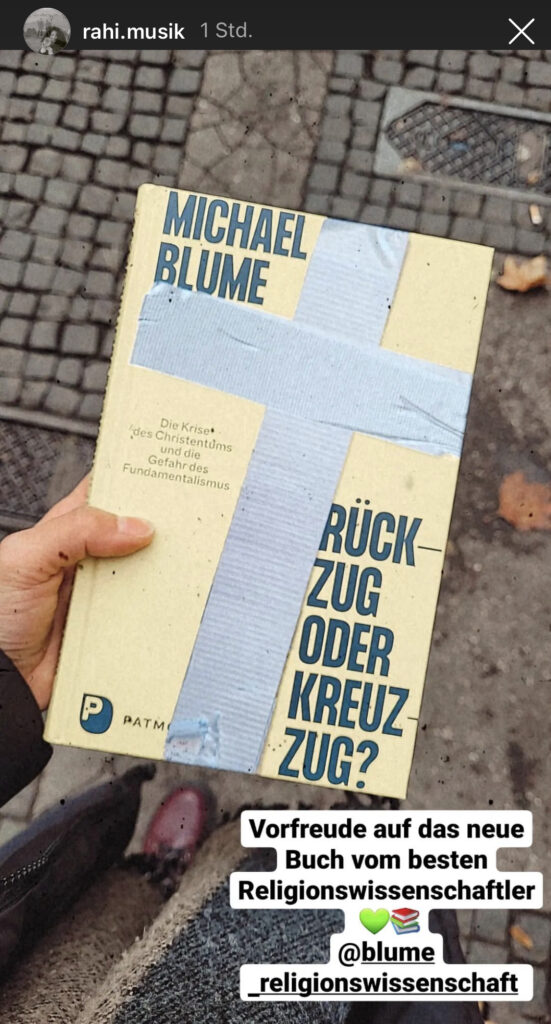 Band "Rahi" posted on their Instagram page for the release of "Retreat or Crusade?" , Patmos 2021
More speculation, for example, about refusal of vaccination and new gnosis
Of course, the book, completed in the summer, also contains a large number of other predictions that might be worth discussing. As an example I quote from page 123 about the internal constitution of territorial "ships":
"Previous tolerance towards the enemies of freedom, diversity and science binary, esotericism, and religious fundamentalists will tend to decline – as we already see in discussions of anti-vaccination opponents. Even the double-legged myths about impending transhumanism, where people can digitally escape from their bodies and their responsibility, will not be able to evolve beyond the neo-Gnostic sects in light of slow and contradictory technological progress."
first edition typo
According to Karl Popper and his pragmatic rationalism, science has to question itself and improve itself over and over again. Forecasts can be checked and thus falsified if necessary.
As always, the first edition still has typos despite the great editing. On page 123, in the quote above it erroneously says "religions" instead of "regions". sorry! Bavarian Prime Minister Markus Söder (CSU) is incorrectly referred to as "Catholic" at one point in the book, but he is Protestant. He was even a member of the Protestant Bavarian Regional Synod until 2018.
If there is a second version, these and two more typing errors will of course be removed. If you still find one, please let us know by email or comment!
All readers enjoy browsing – even if I can't promise easy topics and everything will be fine by itself…

"Explorer. Communicator. Music geek. Web buff. Social media nerd. Food fanatic."