Who likes to lose? I don't believe anyone, neither in games nor in real life. The Monopoly for Bad Losers title inspires the hope that every player will have a guaranteed profit. But this is not the case, perhaps it will be too boring. It's about Hasbro's Monopoly: For Bad Losers, another title in the series monopoly.
What is the difference between Monopoly for Bad Losers and Traditional Monopoly?
The basic rules of the game are almost identical to the original rules: all players move around the game board, buy land, collect and/or pay rent. Prison there too. So, I'm not going to get around the wide world of model rules at this point, but I'm assuming they are known.
From Loser to Monopoly Master
In Monopoly Bad Losers it's not bad to get paid fields, it's almost worth to lose, because when the player has to pay rent or taxes or go to jail or in useless fields like free parking they end up getting a badge loser. After the player collects four lost tokens, he can exchange them for Mr. Monopoly. And that's really cool, when you walk across the field with Mr. Monopoly, you collect all the rent payments and taxes instead of having to pay them yourself. But not only that: the other players have to sit if they are on the same court with Mr. Monopoly and also hand a plot of land to Mr. Monopoly's player. The player with a special number does not have to pay in the fields "Electricity bill" and "Water bill" either, but receives the amount to be paid from the bank. He is protected from prison, he simply sends another player to prison. In short: Loser squares quickly turn into a playable character with superpowers that only help refill the empty cash register. But this does not guarantee that you will actually win the game.
Who is this edition for?
Anyone who likes to play the original can also enjoy this alternative. But this alternative is also suitable for families with children a little older (from about seven or eight years old) because it absorbs the moments of frustration caused by something special. However, I do not see this game in care facilities or therapeutic settings. The game is very complex and time consuming for that. Where it can be used conditionally, there will be residential groups for children and youth. I mainly see areas where this problem is used in the traditional way in families and then on cold or rainy weekends or long summer evenings, simply because it takes time.
deductive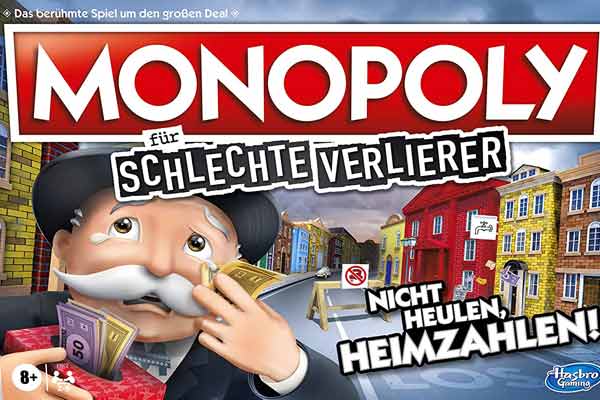 I was not a fan monopolyBecause the game takes too long and is too boring for me. But I have to say, I really liked this variant. If I had to choose between the original game and Monopoly for bad losers, I would always choose the alternative for bad losers (even if I didn't see myself as a bad loser). This alternative is simply more fun and motivates you to persevere, especially if you have already lost a lot of money.
Even with this issue, Monopoly is simply not a game in between, it is and still is a game that has a lot going in the closet and taken out on special occasions. But if you don't mind and want to play it, you can't go wrong with this alternative.


"Travel maven. Beer expert. Subtly charming alcohol fan. Internet junkie. Avid bacon scholar."