The ifun.de app has received an update, which iPad users should be delighted to read here. In the next few minutes, version 10.4 of our free download should also appear in your App Store updates. Take it.
Bug fixes and iPad improvements
Whenever we get the chance to write about our app, we suffice: the first push messaging app in the German App Store. Initially for more than 12 years. It was listed as one of the top 10 messaging apps by both Apple and Gruner + Jahr.
iPad now with an iPad screen too
However, regarding the display on the iPad, we haven't got a medal yet. Even on Apple's largest tablet, we've simply chipped away at the iPhone's display like chewing gum. It's easy to explain the background: in the latest major redesign of the ifun.de app, we actually wanted to turn the universal app shown up until then into an iPhone app and throw the iPad out so we'd have enough time and rest to make something acceptable.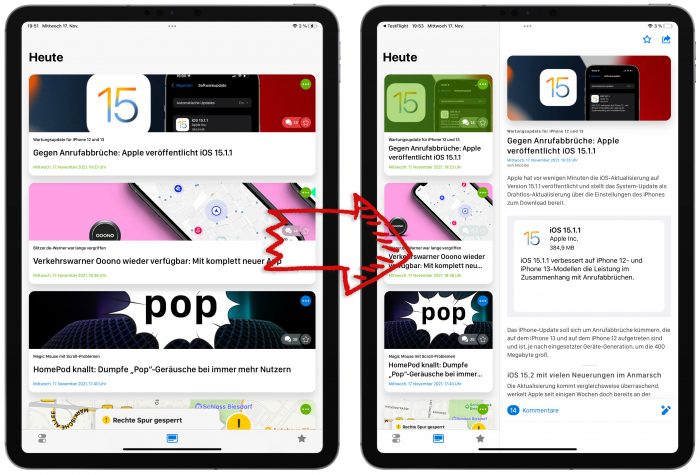 The sight of chewing gum says goodbye
Here, however, we quickly discover that Apple explicitly prevents developers from reverting a global app to an app for just one device class. Business models and owners in the App Store can change like the proverbial socks off, but generic apps should remain global apps. Apple does not allow any exceptions here.
In the past few months we've now worked on the iPad screen, fixed issues with videos already playing when scrolled and made a number of improvements that we hope will have a positive impact in the coming days.
Otherwise, nothing will change
We still rely on a simple banner in the ifun.de app and do not require subscriptions. If you wish, you can support us with an optional in-app purchase that hides advertising for up to one year at a time. We are much happier about the kind words in the App Store ratings. All of the friendly little reviews put you in a good mood.
Anyway: Thank you for reading!
Download from the App Store
Complimentary+
laden


"Travel maven. Beer expert. Subtly charming alcohol fan. Internet junkie. Avid bacon scholar."