(Excerpt from the press release)
Milpitas, California (USA) June 15, 2023 CORSAIR (NASDAQ: CRSR), the leading global manufacturer of high-performance equipment for gamers and content creators, is expanding its successful line of high-performance gaming mice with a new model: DARKSTAR WIRELESS.
Engineered for excellence in every genre, this versatile wireless mouse revolutionizes gaming mouse design. It features a unique side button configuration that makes it easy to perform massive attacks. With DARKSTAR you are victorious in the MMO arena and beyond.
DARKSTAR features 15 programmable buttons that keep all spells and actions close at hand, including a side array of 6 strategically placed buttons with six buttons arranged around a textured handle. Your thumb is now used for maximum effectiveness and control. This reduces the load during long gaming sessions.
DARKSTAR features wireless connectivity options that let you game the way you want – without compromising on speed or responsiveness. Experience 2000Hz hyper-polling over SLIPSTREAM WIRELESS with sub-1ms latency, or connect multiple devices with versatile Bluetooth technology. Thanks to the long-lasting DARKSTAR battery, you can play for up to 80 hours at a time. With a USB port, you can keep fighting even while charging.
When you need to rely on your mouse to fight off the toughest enemies, DARKSTAR is more than up to the task. The high-precision CORSAIR MARKSMAN 26,000 DPI optical sensor tracks every mouse movement, no matter how small, and can be adjusted in single increments per inch. DARKSTAR features spring-loaded CORSAIR QUICKSTRIKE buttons that let you click in rapid succession without delay. Thanks to the optical switches with instant feedback, clicks are registered at lightning speed.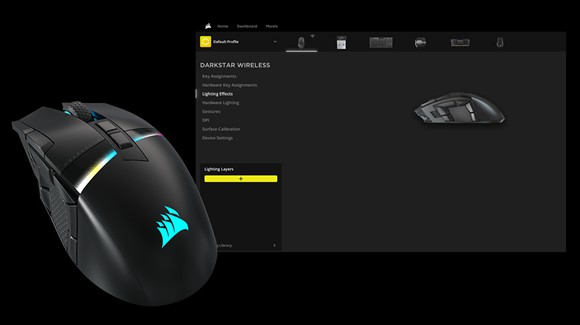 Top gamers need to program their mouse exactly to their specifications, and DARKSTAR's stunning RGB lighting impresses gamers of all skill levels. This is where the powerful CORSAIR iCUE software comes into play. With the new iCUE 5.0, you can customize your mouse's RGB lighting effects, set DPI, assign macros, sensor surface calibration and much more. Save your settings to five built-in profiles for easy access no matter where you play.
With multiple programmable buttons in an ergonomic design full of RGB effects, DARKSTAR expands your gaming possibilities.
Availability, warranty and pricing
The CORSAIR DARKSTAR Wireless Gaming Mouse is now available from the CORSAIR Web Store and from all authorized CORSAIR online distributors and retailers worldwide.
The CORSAIR DARKSTAR WIRELESS gaming mouse is backed by a two-year warranty and the CORSAIR global customer service and technical support network.
Visit the CORSAIR website for the latest pricing information for the CORSAIR DARKSTAR WIRELESS Mouse Gaming Mouse.

"Unapologetic analyst. Infuriatingly humble coffee evangelist. Gamer. Unable to type with boxing gloves on. Student. Entrepreneur."